About Me
As a freelance translator from French and Spanish into English for the past three years, I have come to love my profession and I continually train to develop my knowledge and specialist working areas. My main areas of specialisation are pharmaceuticals and health sciences. My pharmaceutical experience includes: SPCs, PILs, drug safety reports, clinical trials documentation, toxicology reports, pharmacovigilance, product packaging and promotional materials. My health sciences experience includes: nutrition, scientific journal articles, health and fitness, cosmetics (with particular experience in the field of dermatology) and food sciences.
Examples of my recent projects include 45,000 words of translation in the field of nutrition, over 100,000 words of clinical trials documentation, 12,000 words of toxicology reports, and 30,000 words on bacterial resistance to antibiotics. In 2012, I translated over 240,000 words and quality managed approximately 805,000 words of translation.
I also provide proofreading, editing and reviewing services in these domains and in more general domains, as well as monolingual English transcription. I use Trados 2014 software and I am a competent user of Microsoft Office, the Internet and other CAT tools, including Wordfast and MemoQ. I am currently Trados 2009 certified.
My CPD involves training using the MHRA website's education feature, studying the FDA website and EMA templates, and compiling my own termbases from bilingual texts. I also partake in Proz webinars including "An Introduction to Medical Translation" and "Clinical Trials and Medical Documentation", and other translation ECPD webinars such as "Chemistry for Translators". I read widely around my areas of specialisation in all languages. In addition to a wide range of journal articles on relevant topics, I am a regular reader of Sciences et Avenir, Pour la Science, Le Monde des Sciences, Cerveau & Psycho, La Recherche, Independent Nurse, Focus, and Muy Interesante magazines.
I also have experience in the tourism industry and I often translate hotel websites, brochures, leaflets for attractions and marketing materials in this domain.
An Associate of the Institute of Translation and Interpreting, I am committed to producing high-quality target documents and I always meet deadlines.
Please feel free to contact me with your documents for a free quote.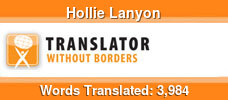 Spanish to English volunteer translator